Valentine's Day Menu
---
Network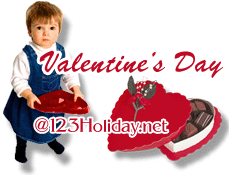 Valentine's Day Appetizers
Valentine's Day Bacon and Smoked Oysters

2 cn Smoked oysters
1/4 c Light vegetable oil
1/2 lb Bacon strips
40 Round wooden toothpicks
3 tb Garlic, minced

Cut bacon strips in thirds.

Wrap a bacon slice around each oyster and place a toothpick through to hold it in place.

In a medium skillet, heat oil, and add garlic.

Cook wrapped oysters in oil until bacon is crisp.

Remove from pan and drain on a paper towel to drain.


---
Valentine's Day Blue Cheese and Walnuts Appetizers

1 c Walnuts
1 c Crumbled blue cheese
1 Egg beaten with 1 tb water

Just chop 1 cup of walnuts (depending on the size of brie you need to cover) and stir into 1 cup crumbled blue cheese. Press onto the top of the brie and carefully wrap a sheet of thawed puff pastry dough (Roll out to size needed).

Use fingers wet with cold water to seal underside of pastry. Cut off excess to make cut-outs and adhere to top of brie with a little cold water.

Brush with egg mixture.

Bake on a cookie sheet covered with baking parchment in a 375 degree oven for about 20 minutes until golden. (Parchment makes it simple to transfer brie to serving dish.)

Let Baked Brie stand for 20-30 Min. before cutting to let it firm up a little.
---
Buffalo Wings with Blue Cheese Dipping Sauce

6 tb Butter or margarine
1/4 c Hot pepper sauce
Vegetable oil for frying
18 Chicken wings, disjointed, tips discarded

Blue Cheese Dipping Sauce:
1/4 lb Blue cheese, Roquefort or Gorgonzola
1/2 c Mayonnaise
1/2 c Sour cream
1 tb Lemon juice
1 tb Wine vinegar
Hot pepper sauce to taste


Melt butter in a small saucepan. Add hot sauce and remove from the heat.

In a large frying pan or deep-fat fryer, heat 1" of oil to 375. Fry wings in batches without crowding until golden brown, 12 1/2 minutes. Drain on paper towels.

Brush wings with spicy butter. Serve warm with Blue Cheese Dipping Sauce.

For Blue Cheese Dipping Sauce: In small bowl, mash the blue cheese, leaving some small lumps. Whisk in the mayonnaise until blended. Add the sour cream, lemon juice, wine vinegar, and hot pepper sauce; whisk until well blended.

Cover and refrigerate until ready to serve
---
Buy Valentines Day Lingerie Online
---
Valentine's Day Caviar Heart Kisses

1 sm Cucumber, scrubbed and trimmed
1/3 c Sour Cream
1 ts Dried dill weed
Freshly ground black pepper to taste
1 Jar red salmon caviar
Fresh dill sprigs
8 Thin slices whole-wheat bread
Butter or margarine


Slice cucumber into 1/4-inch rounds.

In a small bowl, combine sour cream, dried dill and pepper. Place one teaspoon of the sour cream mixture on each cucumber slice. Garnish each with about 1/2 teaspoon caviar and a dill sprig.

Cut bread slices with heart-shaped cookie cutter. Toast and butter. Place cucumber slices in center of serving plate and surround with toast hearts.