Valentine's Day Menu
---
Network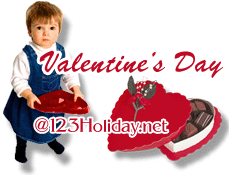 Valentine's Day Appetizers
Cheddar and Broccoli Valentine's Day Appetizers

10 oz Frozen chopped broccoli*
8 oz Whole kernal corn; drained
1/4 c Onion; chopped
1/2 c Walnuts; coarsely chopped
1/2 c Milk
1/4 c Butter; melted
2 Eggs
1/2 c Bisquick
1/4 ts Garlic salt
1 c Cheddar cheese; shredded


*Thawed and drained.
Heat oven to 375. Grease a 9x9x2" pan.

Mix broccoli, corn, onion and walnuts. Place in pan.

Beat milk, butter, eggs, bisquick and garlic salt until smooth, 15 seconds. in blender on high, stopping blender frequently to scrape sides if necessary, or 1 minute. with electric mixer on high. Pour evenly into pan.

Bake until knife inserted in center comes out clean, 23-25 minutes.; sprinkle with cheese.

Bake until cheese is melted, 2-3 minutes longer. cool 30 minutes.

Cut into triangles or squares. Makes 30 appetizers.
---
Buy Valentines Day Lingerie Online
---
Valentine's Day Cheese and Sausage Snacks

1 Roll Sausage Meat
1 Spanish Onion, finely chopped
1 lb Grated Cheddar Cheese
3 c Bisquick
3/4 c Milk

Blend sausage meat and onion in blender. Add the cheddar, bisquick, and milk and mix well.

Drop from teaspoon onto greased cookie sheet

Bake at 425 Degrees Fahreneheit for 10 -15 minutes or until browned.

This is a QUICK and DELICIOUS Valentine's Day snack.