Valentine's Day Menu
---
Network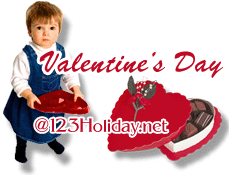 Valentine's Day Cake
Heavenly Valentine's Day Chocolate Cheesecake

2 c Vanilla Wafers, Fine Crush
1 c Ground Toasted Almonds
1/2 c Butter, Melted
1/2 c Sugar
12 oz Milk Chocolate Chips
1/2 c Milk
1 ea Env. Unflavored Gelatin
16 oz Cream Cheese, Softened
1/2 c Sour Cream
1/2 ts Almond Extract
1/2 c Heavy Cream, Whipped
1 x Garnishes *

* Whipped cream and chocolate shavings (optional).

In large bowl, combine vanilla waver crumbs, almonds, butter and sugar; mix well. Pat firmly into 9-inch springform pan, covering bottom and 2 1/2 inches up the sides. Set aside.

Melt over hot (not boiling) water milk chocolate chips; stir until smooth. Set aside.

Pour milk into small saucepan; sprinkle gelatin over top. Set aside for 1 minute.

Cook over low heat, stirring constantly until gelatin dissolves. Set aside.

In large bowl, combine cream cheese, sour cream, and melted chocolate chips; beat until fluffy. Beat in gelatin mixture and almond extract. Fold in whipped cream.

Pour into prepared pan. Chill until firm (about 3 hours).

Run knife around edge of cake to separate from pan; remove rim.

Garnish with whipped cream and chocolate shavings, if desired. Makes 1 9-inch Cheesecake

Cheesecake Tip: To easily cut cheesecake, take a long strand of plain dental floss, stretch it taut, and gently press it through the cake. When you reach the bottom of the cheesecake, simply pull the floss out from underneath.
---
Buy Valentines Day Lingerie Online
---
Valentine's Day Peanut Butter Cake

3/4 c unsalted butter
3/4 c creamy peanut butter
2 c packed brown sugar
3 ea eggs
2 c all purpose flour
1 tb baking powder
1/2 ts salt
1 c milk
1 ts vanilla

Peanut Butter Filling:
1 c cream cheese, softened
1/2 c creamy peanut butter

Chocolate Glaze:
1/2 c water
4 tb unsalted butter
1/2 c cocoa
1 c powdered sugar
1 ts vanilla

In large mixing bowl, cream butter and peanut butter until light and fluffy. Add brown sugar. Mix to blend.

Add eggs, one at a time, mixing well after each addition.

In a small bowl, combine flour, baking powder and salt. Add flour mixture to butter and peanut butter mixture alternately with milk, beginning and ending with flour mixture. Add vanilla.

Pour batter into 2 well greased and floured 9 inch cake pans.

Bake in preheated 350 degree oven until cake tests done, about 45 minutes.

Cool on wire rack to room temperature before frosting the cake.

Spread half of Peanut Butter Filling over tops of each cake. Chill.

Spread half of Chocolate Glaze over peanut butter topping on each cake, using metal spatula dipped in hot water. Spread glaze over cake while glaze is warm.

As glaze cools, it will thicken.

Peanut Butter Filling: Cream ingredients together until light and fluffy.

Chocolate Glaze: Place water and butter in small saucepan. Bring to a boil. Add cocoa, sugar and vanilla to water mixture. Mix until smooth.

Note: This recipe will make two 9 inch cakes or one stacked layer cake.

If making the stacked layer cake, the Peanut Butter Filling should be put between the layers and on top of the cake before topping it with the Chocolate Glaze.