Valentine's Day Menu
---
Network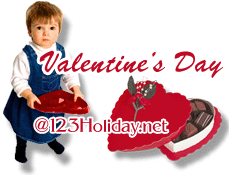 Valentine's Day Cake
Valentine's Day Ambrosia Cake

1 c butter, softened
2 c sugar
4 ea eggs
1 ts butter flavoring
1 ts vanilla
3 c cake flour, sifted
2 1/2 ts baking powder
1/2 ts salt
1 c milk
1/2 c coconut, flaked

Orange Filling:
1 c sugar
3 tb cornstarch
1/4 ts salt
3/4 c orange juice
1/4 c lemon juice
1/2 c water
3 ea egg yolks, beaten
1 tb orange rind, grated

Divinity Frosting:
1 1/2 c sugar
1/2 ts cream of tartar
1/2 c water
3 ea egg whites
1/2 ts vanilla

Cream butter; gradually add sugar, beating well at medium speed of an electric mixer. Add eggs, one at a time, beating after each addition. Add flavorings.

Combine flour, baking powder, and salt; add to creamed mixture alternately with milk, beginning and ending with flour mixture. Mix on low speed after each addition just until blended.

Pour batter into 3 greased and floured 9-inch round cakepans.

Bake at 350 degrees F for 20 to 25 minutes or until a wooden pick inserted in center comes out clean.

Cool in pans 10 minutes; remove from pans, and cool completely on wire racks.

Spread Orange Filling between layers; spread top and sides of cake with Divinity Frosting. Sprinkle with coconut.

Yield: one 3 layer cake

Orange Filling:
Combine first 3 ingredients in a small saucepan; gradually stir in fruit juices and water.

Cook over medium heat, stirring constantly, until mixture boils; boil 1 minute.
Slowly stir a small amount of hot mixture into egg yolks; add to remaining hot mixture, stirring constantly. Boil 1 minute longer, stirring constantly.

Remove from heat, and stir in orange rind. Let cool.

Yield: about 2 cups

Divinity Frosting: Combine all ingredients and blend until smooth and creamy.
---
Buy Valentines Day Lingerie Online
---