Valentine's Day Menu
---
Network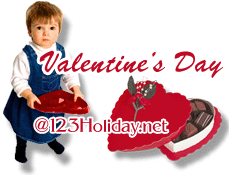 Valentine's Day Candies
Valentine's Day Cinnamon Pecans

1 c Sugar
1/2 c Water
3 ts Cinnamon
1 ds Salt
3 1/2 c Pecans

Combine sugar and water. Cook to soft ball stage.

Add cinnamon and salt and mix well. Add the pecans.

Stir until it hardens.

Pour out and let cool.
---
Buy Valentines Day Lingerie Online
---
Valentine's Day Coconut Bon Bons

15 oz Sweetened condensed milk
1/2 c Butter, or margarine
2 c Confectioners' sugar
12 oz Coconut, grated dried
24 oz Semi-sweet chocolate
4 tb Shortening

Mix together condensed milk, butter, sugar and coconut. Cover with wax paper and chill for 24 hours.

Melt chocolate with shortening.

Roll coconut mixture into balls and using a fork dip the balls into the chocolate.

Drop on wax paper to cool and dry.