Valentine's Day Menu
---
Network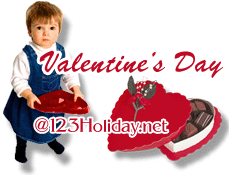 Valentine's Day Candies
Valentine's Day Chocolate Sticks

2 Squares bitter chocolate
1/2 c Butter
1 c Sugar
2 Eggs
1/4 ts Salt
1/2 ts Vanilla
1/2 c Flour
1/2 c Chopped pecans or walnuts

Melt chocolate with butter and add a cup of sugar. Stir well. Stir in the eggs, first the yolks and then the whites which have been beaten with the 1/4 teaspoon of salt.

Add vanilla, half a cup of flour and fold in the nuts.

Bake at 350 degrees for 20 to 30 minutes, or until done.

Cut into slim rectangular sticks.
---
Buy Valentines Day Lingerie Online
---
Easy No-Beat Fudge for Valentine's Day

1 1/3 c Sugar
2/3 c Evaporated milk (small can)
3 tb Butter or margarine
3 pk Semi-sweet chocolate pieces (6 oz each)
3 c Miniature marshmallows
1/2 c Chopped walnuts
1/2 c Candied cherries; halved

Combine sugar, milk and butter or margarine in a medium-size heavy saucepan; heat to boiling over medium heat, stirring constantly; cook for 6 minutes, or until candy thermometer reaches 227F.

Remove from heat; add chocolate pieces and marshmallows; stir until chocolate and marshmallows are melted and mixture is smooth; quickly stir in walnuts and cherries.

Spoon into buttered 8x8x2" pan and let stand until set; cut into squares.

Makes about 3 pounds.