Valentine's Day Menu
---
Network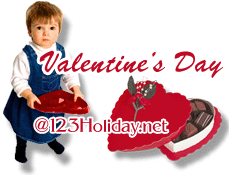 Valentine's Day Cookies
Valentine's Day Hidden Hugs Cookies

1 pk Hershey's Hugs Chocolates (8 oz)
1 c Butter or margarine, softened
1/2 c Powdered sugar
1 ts Vanilla extract
2 1/4 c All-purpose flour
1/4 ts Salt
3/4 c Toasted almonds, finely ground (see note)
Additional powdered sugar

Heat oven to 400 degrees F.

Remove wrappers from chocolate pieces.

In large mixer bowl, beat butter, powdered sugar amd vanilla until well blended.

Stir together flour and salt; gradually add to butter mixture, beating until well blended. Add nuts; blend well.

Mold scant tablespoon dough around each chocolate piece, covering completely.

Shape into balls.

Place on ungreased cookie sheet. Bake 10-12 minutes or until set.

Cool slightly; roll in powdered sugar.

Cool completely.

Before serving, roll again in powdered sugar, if desired.

Note: To toast almonds, heat oven to 350'F. Spread almonds in thin layer in shallow baking pan. Bake 8-10 minutes, stirring occasionally, until light golden brown; cool.


---
Buy Valentines Day Lingerie Online
---
Creme De Menthe Chocolate Squares (Valentine's Day)

Brownies:
1 c Sugar
1/2 c Butter
4 Eggs, beaten
1 c Flour
1/2 ts Salt
1 ts Vanilla
1 cn (16 oz) chocolate syrup

Creme de Menthe Layer:
2 c Confectioners sugar
3 tb Green creme de menthe
1/2 c Melted butter

Glaze:
6 oz Chocolate chips
6 tb Butter


Preheat oven to 350 degrees F.

In a large bowl, cream sugar and butter. Add beaten eggs and blend well. Add flour and salt and mix well. Blend in vanilla and chocolate syrup.

Pour batter into greased 9x13-inch pan. Bake at 350ø for 30 minutes. Cool in pan.

While brownies are cooling, make mint layer by mixing together sugar, creme de menthe and butter. Spread over cooled brownies.

To make glaze: Melt chocolate chips and butter together until smooth. Cool and spread thinly over mint layer.

Chill until ready to serve.

Cut into small squares.

These brownies freeze well. To use: thaw at room temperature for two hours.