Valentine's Day Menu
---
Network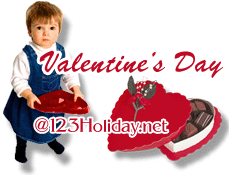 Valentine's Day Drinks
Valentine's Day Rum Cream

8 oz Myers Rum
14 oz Sweetened condensed milk
1 Egg
1 tb Vanilla


Mix the rum, milk, egg, and vanilla in a blender and blend for several minutes on medium speed. Refrigerate overnight (this step is important).
---
Buy Valentines Day Lingerie Online
---
Valentine's Day on the Rocks

1 oz Light Rum
1 oz Peach Schnapps

Serve over ice in 4 - 5 ounce rocks glass
---
Valentine's Day Cherry Bomb

1 oz Brandy
1/2 oz Triple Sec
1 Egg yolk
1 ts Grenadine
4 Ice cubes


Combine brandy, triple sec, egg yolk, grenadine, and ice cubes in shaker. Strain into glass. Serve in large cup or cups.
---
Valentine's Day Passion Fruit Champagne Cocktails

1 cup chilled passion fruit blend nectar
1/2 teaspoon Angostura bitters
1 cup chilled champagne or other sparkling white wine
4 fresh raspberries or small strawberries
1 orange slice, cut in half

Divide nectar and bitters between 2 chilled champagne flutes. Add champagne. Drop 2 berries into each drink. Garnish with orange.