Valentine's Day Menu
---
Network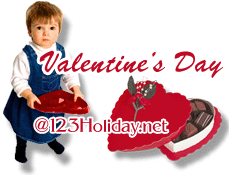 Valentine's Day Pie
Valentine's Day Golden Apple Pie with Rum Sauce

7 ea golden delicious apples
1/4 c brown sugar
2 tb flour
1/2 ts cinnamon
1/8 ts nutmeg
1/4 ts salt
1 x Pastry for a 2 crust 9" pie
1/4 c chopped nuts
2 tb rum
2 tb butter

Combine apples with brown sugar, flour, cinnamon, nutmeg, and salt.

Place in a 9" pastry-lined pie plate. Flute edges of crust.

Sprinkle apples with nuts and rum; dot with butter.

Roll out remaining pastry. Cut into 3/4" strips. Arrange strips in a lattice pattern, on top of the pie.

Bake at 425 degrees F. for 50 to 60 minutes or until apples are fork-tender.

Cover top of pie with foil part way through baking time to prevent over-browning of crust.

Serve with Rum Sauce.

Rum Sauce:
Combine 1 cup sugar, 3/4 cup water, and 1/2 tsp. of cinnamon in medium size saucepan.

Bring to a boil and boil for 5 minutes over medium- high heat, stirring constantly. Gradually blend together 2 tbsp. cornstarch and 1/4 cup cold water. Stir into hot sugar mixture.

Cook and stir until thickened.

Stir in 1/2 cup rum;cool slightly.

Serve warm with pie.
---
Buy Valentines Day Lingerie Online
---
Valentine's Day Apple Crunch Pie with Cinnamon Ice Cream

6 Juicy sour apples, pared and cored
1 c Flour
1 c Brown sugar
1/4 lb Margarine


Cinnamon Ice Cream:
1/2 pt Whipping cream
2 tb Sugar
1 ts Cinnamon (heaping)
1 qt Vanilla ice cream

Place sliced apples in pie plate.

Whisk together the flour and brown sugar; add margarine and mix until crumbly.

Sprinkle this mixture over apples and bake at 350 degrees for about 30 minutes or until apples are fork-tender.

Serve warm with Cinnamon Ice Cream.

For Cinnamon Ice Cream: Whip the cream; add sugar and cinnamon. Soften the vanilla ice cream; add cinnamon mixture and whip. Freeze.